Just hours from Tokyo, you will find the island of Kyushu. This island was inhabited early in Japanese history, and remains a stronghold of historic artifacts, natural beauty, and contrasting modern cities.
Would you like to discover all that Kyushu has to offer? You can use your Japan Rail Pass to travel to and around Kyushu in style via the Shinkansen bullet train. We're here to show you how.
In the northern city of Fukuoka, for example, you can indulge in traditional cuisine from Yatai food stalls, explore the ruins of Fukuoka Castle, and make a pilgrimage to Shofukuji, Japan's first Zen temple. Or, you visit the futuristic Momochi Seaside Park and shop at the Canal City shopping and entertainment complex. Excitement awaits in Kagoshima, where you can view the active Sakurajima volcano or trek the ancient cedar forest of Yakushima Island. Whatever your interests, there is always plenty to do in Kyushu.
The Kyushu Shinkansen connects the cities of Fukuoka and Kagoshima. In this way, it also provides a rapid connection between the northern and southern portions of Kyushu.
Kyushu Shinkansen Stations
The Kyushu Shinkansen Line runs from Hakata Station in the north to Kagoshima-Chuo Station in the south. Interim stations include Shin-Tosu Station, Chikugo-Funagoya Station, Shin-Omuta Station, Shin-Tamana Station, Kumamoto Station, Shin-Yatsushiro Station, Shin-Minamata Station, Izumi Station, and Sendai Station in Kagoshima.
Station
Transfers
Prefecture
Hakata Station
Kūkō Line (Fukuoka City Subway),
Fukuhoku Yutaka Line, Hakata-Minami Line, Kagoshima Main Line, Sanyo Shinkansen.
Fukuoka
Shin-Tosu
Nagasaki Main Line.
Saga
Kurume Station
Kagoshima Main Line, Kyūdai Main Line.
Fukuoka
Chikugo-Funagoya Station
Kagoshima Main Line.
Fukuoka
Shin-Omuta Station
Fukuoka
Shin-Tamana Station
Kumamoto
Kumamoto Station
Hōhi Main Line, Kagoshima Main Line
Kumamoto City Tram.
Kumamoto
Shin-Yatsushiro Station
Kagoshima Main Line.
Kumamoto
Shin-Minamata Station
Hisatsu Orange Railway Line.
Kumamoto
Izumi Station
Hisatsu Orange Railway Line.
Kagoshima
Sendai Station
Hisatsu Orange Railway Line, Kagoshima Main Line.
Kagoshima
Kagoshima-Chūō
Ibusuki Makurazaki Line, Kagoshima Main Line, Kagoshima City Tram.
Kagoshima
Kyushu Shinkansen Map
Train Services
On the Kyushu Shinkansen line we found 3 operational train services: Mizuho, Sakura and Tsubame Shinkansen, ordered from most to least fast.
The Mizuho makes five round trips between Shin-Osaka and Kagoshima-Chūō per day. Travel this journey in 3 hours and 45 minutes.
The Sakura depart once an hour throughout the day between Shin-Osaka and Kagoshima-Chūō, making more stops than the Mizuho, with a travel time of 4 hours and 10 minutes. There are also between one and two Sakura services every hour between Hakata and Kumamoto or Kagoshima-Chūō.
The Tsubame Shinkansen stops at all stations between Hakata and Kumamoto, departing between 1 and 2 times per hour, with some services operating from/to Kagoshima-Chūō.
Mizuho Shinkansen
Mizuho trains are considered an express service, stopping at only one station – Kumamoto – between Hakata and Kagoshima-Chuo Stations. The Mizuho trains make about five round trips per day. Please note that Mizuho trains are covered under the Kyushu Rail Pass. Additionally, you can ride these trains with your JR Pass from October 2023 by paying a supplement.
Sakura Shinkansen
The Sakura Shinkansen serve some but not all of the stations along the line, while the Tsubame trains stop at every station. Sakura trains typically depart twice per hour. Some Sakura trains also connect with Shin-Osaka Station.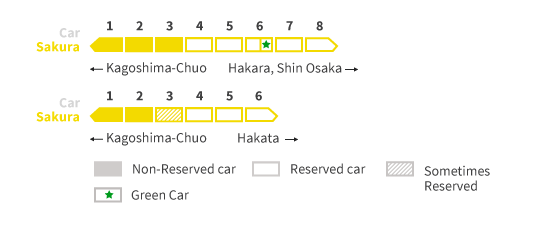 Tsubame Shinkansen
Tsubame is the slowest service  on the Kyushu Shinkansen line, since it is stopping at all stations between Hakata and Kagoshima-Chuo. There are no Green Car seats on this train category. The operating speed of Tsubame trains is 260 km/h (160 mph). A trip from Kagoshima-Chuo to Hakata with the Tsubame train will take you a little over an hour.


Using Japan Rail Pass
You can activate your JR Pass for use by visiting a ticketing counter in many of the major train stations. Along the Kyushu Shinkansen Line, these include Hakata Station, Kumamoto Station, and Kagoshima-Chuo Station.
Reserved seating is available on each of the Kyushu Shinkansen train classes. If you wish to use reserved seating, be sure to make your seat reservations in advance by visiting a ticketing counter. Whether or not you are using reserved seats, be ready to present your JR pass at the departure gate.
From October 2023, JR Pass holders will also be able to ride on Nozomi and Mizuho trains. However, you will need to pay a supplemental charge to use these services.
Tokyo to Fukuoka
Most trains on the Kyushu Shinkansen Line provide through service with the Sanyo Shinkansen Line, traveling to or from Osaka. Others may require a transfer to or from one of the Nozomi trains at Hakata Station, in Fukuoka. To travel from Tokyo to Fukuoka, you may board the Sanyo Shinkansen at Tokyo Station or any of the numerous stations it services. The trip from Tokyo to Fukuoka takes five to six hours.
Nagasaki Shinkansen (Nishi-Kyushu Shinkansen Route)
Since its inception, the Kyushu Shinkansen has come online in stages. The southern half of the line was inaugurated in 2004, and the northern half in 2011.
A new stretch of Shinkansen high-speed line on Kyushu island connects Tokeo-Onsen and Nagasaki, covering a distance of 66 km. The route has been named Nishi-Kyushu Shinkansen, which translates as West-Kyushu New-Main-Line.
The Nagasaki Shinkansen is expected to be operational by September 23, 2022. It will reduce overall travel times from Fukuoka (Hakata station) to Nagasaki.
A new six-car high-speed train, the Karome, will run on the Nishi-Kyushu Shinkansen route. It is built on a 1,435 mm track gauge with a standard Shinkansen loading gauge.
No conclusions have yet been reached regarding the remaining section between Shin-Tosu and Takeo-Onsen. Currently, passengers need to transfer onto limited express trains at Takeo-Onsen.
Cover Photo by Yuki Shimazu @Flickr